Sheet Metal Fabrication of Stainless Steel Auto Clave Box for the Medical / Biological / Instrumentation Industries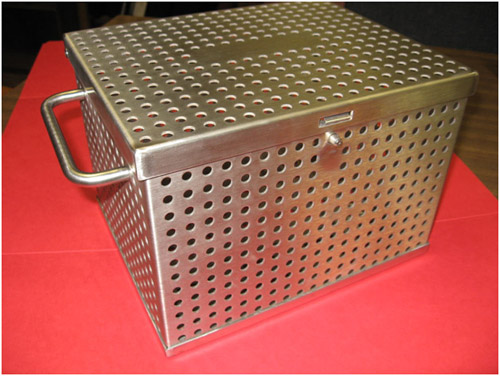 AmeriStar was approached by a client from the medical industry to form a short run of custom designed stainless steel auto clave boxes. The 15″ wide, 15″ long and 12″ high stainless steel boxes were turret stamped out of sheet metal. They were then press brake formed and welded, and all the necessary handles and latches were attached. The .150″ thick stainless steel did not require a finish, and we were able to hold tightest tolerances of +/-.005″ throughout the entire process. After inspection and packaging, the 40 auto clave boxes were sent to the client's Minneapolis-St. Paul location.
For more information about this forming project, please see the details below. To learn about our other outstanding services, please contact AmeriStar today.
Sheet Metal Fabrication of Stainless Steel Project Highlights
Product Name
Auto Clave Box
Project Scope

Form a Custom Designed Auto Clave box per customer's specifications
All Stainless Steel, with handles, a latch to lock closed the cover, and a perforated pattern in the sides of the box so as to allow "flow" of liquid through the container during the Auto Clave cycle
Components placed into each container were securely held in place during their cycle, and were protected and isolated from other components being processed.

Capabilities Applied/Processes

Sheet Metal Fabrication
Turret Stamping
Press brake formed
Welding
Handles and latches attached

Tightest Tolerance
+/-.005″
Material Type
Stainless Steel
Material Thickness
.150″ thick Stainless Steel
Product Length
15″ x 15″ x 12″ high
Material Finish
Stainless steel with no other applied finish
Secondary Operations Applied

Welded
Latch applied
Passivation after welding

Industry for Use
Medical/Biological/Instrumentation
Tooling Cost
$200
Standards Met
Customer supplied design and prints
Volume
Low Volume – order quantity was only 40 per order
Delivery Time
4 weeks
Delivery Location
Minneapolis/St. Paul, MN