Metal Stamping of Cold Rolled Steel Keyboard Mounting Bracket for the Music Industry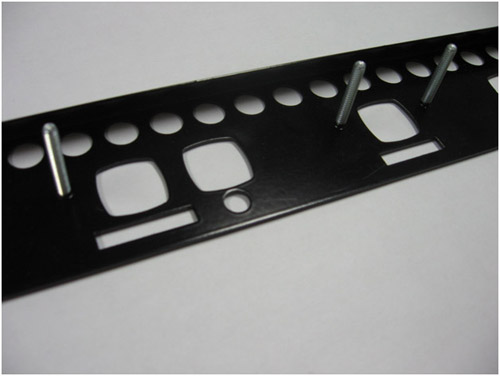 An entertainment company approached AmeriStar to manufacture a mounting bracket for a high-end keyboard. We first turret stamped the .100″ thick cold rolled steel. As each sheet came off the turret press, it was deburred. Then the bracket's inserts were press fit into position. The mounting brackets were then painted with a black powder coat. The hardware was inserted perfectly flush with the part to prevent showing through the customers applied overlay.
Each of the brackets was individually bubble wrapped and taped to ensure the parts were not scratched due to part-to-part contact. Every order included 200 pieces and was completed and shipped to the client's Chicago location within 4 weeks.
For more information about this stamping and pressing project, please see the details below. To learn about our other outstanding services, contact AmeriStar today.
Metal Stamping of Cold Rolled Steel Project Highlights
Product Name
Keyboard Mounting Bracket
Project Scope

Turret stamp Cold Rolled Steel (CRS) from Sheet Stock
Debur sheet stock as they come off the turret press
Press fit inserts (studs, PEM Nuts, etc.) into position on each stamped part
Mask all studs and nuts so as to not get Powder Coating onto these inserts
Black Powder coat per customer's specifications

Capabilities Applied/Processes

Stamping
Inserts press fit into position (on Autosert Equipment)

Tightest Tolerance
+/-.005″
Material Type
CRS (cold rolled steel) and Inserts
Material Thickness
.100″ thick CRS
Product Length
Up to 8 foot long pieces
Product Width
Up to 4 foot wide
Material Finish
Black Powder Coating
Packaging
Each panel, so as to insure the very pristine cosmetic nature of the part is individually bubble wrapped and taped so as to insure no part-to-part contact that might scratch each part
Secondary Operations Applied
Powder Coating
Industry for Use
Music/Entertainment
Tooling Cost
$200
Standards Met
Customer supplied design and prints
Volume
200 pieces per order
Delivery Time
4 weeks
Delivery Location
Chicago, IL