Metal Stamping of Cold Rolled Steel Access Controls Cover for the Military Industry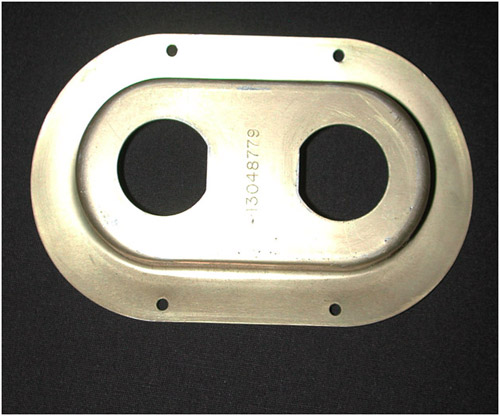 AmeriStar stamped this military\defense industry access controls cover from coil fed .036 Aluminum. This part features a shallow drawn area shown in the center of this part photo, along with the part number stamped into each piece. Finally, the access covers were given a yellow chromate finish.
After manufacturing, the parts were inspected and then individually bubble wrapped and taped to ensure there was no part-to-part contact.
The order was completed and delivered to the client's Dallas, Texas location in 6 weeks. For more information about this stamping project, please see the details below. To learn about our other services, please contact AmeriStar.
Metal Stamping of Cold Rolled Steel Project Highlights
Product Name
Access/Controls Cover
Project Scope

Stamp Cold Rolled Steel (CRS) from coil
Multiple stamped hits to shallow draw the indented center panel
Cut six (6) holes
Part number stamped into the center of each piece
Yellow Chromate finish

Capabilities Applied/Processes

Metal Stamping from coil fed material
Part number stamping
Finished and Plated

Tightest Tolerance
+/-.005″
Material Type
.036 Aluminum
Material Thickness
.036 thick Cold Rolled Steel
Product Length
6″
Product Width
4″
Material Finish
Yellow Chromate
Resistances
The plated finish will preserve and protect the Aluminum for the life of the part.
Packaging
Each panel, so as to insure the very pristine cosmetic nature of the part, is individually bubble wrapped and taped so as to insure no part-to-part contact that might scratch each part
Industry for Use
Defense/Military
Tooling Cost
$2500
Standards Met

Customer supplied design and prints
Material Certifications (strictly sourced in the U.S. for Military purposes)
Finishing/Plating process compliant with Military Specs and certified to comply with requirements

Volume
250 pieces per order
Delivery Time
6 weeks
Delivery Location
Dallas, Texas