About AmeriStar Manufacturing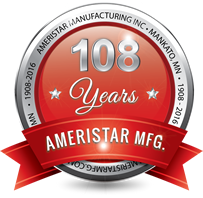 AmeriStar Manufacturing was established in 1908 and has grown to be a full service metal manufacturing company. AmeriStar has steadily grown as a result of providing our customers with quality products and exceptional services. As we move into our second hundred years, AmeriStar continues to grow as a full service manufacturer offering the best value and service to our customers.
AmeriStar Manufacturing is your complete source for full service sheet metal fabrication, stamping, precision laserjet and waterjet cutting, welding and assembly, short run stamping & long run stamping. Our quality personnel and state-of-the-art equipment are ready to fabricate, stamp, cut, weld or assemble your metal components from prototype to large production quantities, with the quality you expect and deserve.
We are a true full-service supplier and can complete most processes, such as tool making, on-site allowing us to lower your costs and minimize your inventory with multiple J.I.T. deliveries-for both short and long runs.
Our professional and friendly service and high quality means many repeat customers. Our continuous improvements in equipment and training help keep prices competitive while maintaining the quality we demand. Our 45,000 square foot facility in Mankato, Minnesota is staffed with many skilled and experienced workers.
We are proud of our dedication to quality. We are ISO 9001:2008 certified for over 9 years. Quality means meeting your print specification on every part. We are also compliant with Mil-Q-9856 and Mil-STD-45662.
Some of the metal components we have produced include metal brackets, metal enclosures, boxes, chassis, metal shims, motor mounts, guards, shelf brackets, heat sinks and fences for circuit boards, pipe brackets, electrical enclosures, light fixtures, motorcycle brackets, support brackets, electrical contacts, switch brackets, washers, gaskets, signs, labels, display panels, covers, rocket launchers, and more.
We're staffed with outstanding personnel and equipped with the latest technologies and equipment to serve your needs now and into the future!
For your next part, assembly, or special project, call AmeriStar and experience how valuable a partner we can be.